Doing Surveys To Pay For A Gym Membership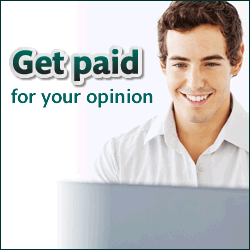 I met a woman in the spring who wanted to join a health club but was on a very tight budget, so I suggested that she do surveys for a little side money. Last week, I ran into her again and she told me she joined a park district gym and she has been doing surveys to pay for her membership.
When I tell people I do surveys for a little side money or for gift cards, most people can't believe it. I think they believe it is a scam or that some fraudulent company online is going to steal their personal information and use it against them. I don't find that to be the case. In fact, surveys could be a way to buy a new fitness outfit and small workout equipment or like the lady above, a way to join the health club.
Some surveys pay cash where others offer gift cards, airline and hotel points. I have redeemed gift cards, received airline miles and hotel points and plain old cash. You won't get rich but if you are on a budget, it could mean some extra cash in your bank account.
Below are the surveys I belong to or ones I heard that are really worth joining. Try them out, you never know when it might come in handy, like a gift card for date night with a special person. Many of the survey companies have quarterly drawings for $10,000 for participating in surveys on their site.
Opinion Outpost: (US) (Canada) (UK): I do their surveys also and you can get cash, Amazon gift cards, game points and donations to your favorite charities. One great thing about them, they payout really fast.
Survey Spot (US): Another survey that pays cash and pays through rewards. Amazon vouchers require a 500 point ($5) minimum while Paypal starts at 1000 points ($10)
MySurveys USA/ My Surveys Mobile USA
/ MySurveys Canada
: I love them because they have a lot of rewards and cash. My only complaint with them, you should write down your survey id because their surveys crash a lot and you will need prove that you were in the middle of doing the survey.
E-rewards (USA): For me their surveys don't crash like MySurveys but they don't offer a lot of rewards or cash. I like them for airline miles and hotel points. I also get my Starbucks e-cards from their program.
__________________________________________________
Surveys I have heard good things about but I am not a member:
Pinecone
Research (US) (UK) (Canada)(Males USA)(Germany)
: A very popular survey company that pays well but is hard to get into. Right now they are looking for young people and
males in the US
or especially minority males.
Harris Poll Online (US) (Canada):
A survey program I'm thinking about joining. This one doesn't offer cash but points for gift cards.
*Pinecone has the reputation of paying the highest amount of money per survey.
___________________________________________________
Surveys that I have heard of but don't know that well.
Springboard
America (USA):
gives Americans like you the opportunity to speak up on what affects their daily lives - from products to politics. By joining Springboard, one of America's leading online research communities, you'll become eligible to receive invitations to our surveys, earn Survey Dollars and to help shape America's future.
Ipsos
I-Say (USA) (Canada)
: I-Say is looking for Moms! Take surveys and earn points. The more surveys you complete the more points you earn. The more points you earn, the more you can redeem in our online reward catalogue. We also like to chip in and offer some great contests & prizes for dedicated members. It's a win-win!
Panel
Station
(
China
)(
USA
): A true market research panel where you can share your thoughts and opinions on various market research surveys and get chance to win cash and reward points. Sign Up is free.
Angus
Reid
Forum
(
Canada
): As a member you will make your opinion count in boardrooms, government and the media. Earn Survey Dollars redeemable for cheques, Aeroplan Miles, Amazon gift cards or charity. Get entered into our $1,000 Contest Draw for joining.
Vindale
(
USA
): Get Paid to Review Products Join the finest minds in consumer research and change the world one product at a time. Share your unique opinion and get paid for it! Participation required.
Toluna (USA):
Get Rewarded for Surveys & Polls
If you want to know more about surveys where
they rank or just survey talk, check out the
Survey Police
site and forum.